---
Transparent tunnels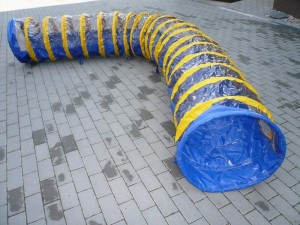 Transparent tunnels are a novelty not only on the Czech market. They are trying to attract the training and the competitions for the audience. Thanks to them you can see the dog running through the tunnel.
Transparent tunnels are from the top made of solid transparent PVC, which is stabilized against UV radiation and can withstand temperatures from 40 up to 0 °C. For this reason it is necesarry to store and use tunnels in the winter only if the temperatures is above 0 °C. The lower part of the tunnels is made from the same PVC (620 g/m2) as solid non-transparent tunnels.
Transparent tunnels are produced on diameter of 60cm and the length from 3m to 6m (on customer's need we can produce different diameter and length). They are reinforced by special spring steel wires, which are covered the whole length to avoid the possibility of injury during training or handling. Tunnels have a smooth inner seam and can be used even in bad weather.
Tunnels can be shaped into various arcs or curves. We deliver tunnels according to customer needs in various color combinations of the lower part of tunnels and stripes – white, yellow, orange, red, blue, green and black.
Weight of 1 m transparent tunnel is 3 kg.
To stabilize the tunnel you can use our saddle and stabilization bags.
Price list of transparent tunnels, diameter 60cm :
| | |
| --- | --- |
| Length | Price in EUR |
| 3m | 158 EUR |
| 4m | 197 EUR |
| 5m | 235 EUR |
| 6m | 275 EUR |
All prices include 21% VAT. Shipping and handling is FREE for the Czech Republic, 10 EUR for Slovakia, 28 EUR for EU countries, 48 EUR for Non-EU countries.