---
Stabilization bag NINA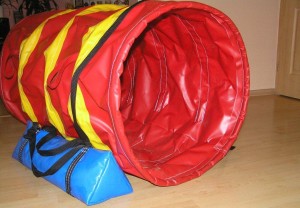 Stabilization bag NINA serves to fix tunnel in one position. Thanks to its triangular shape it can be used for fixation other obstacles. The bag can be used everywhere, where is not possible to attach obstacles firmly to the ground – artificial grass, gym, hall, sandy course…

Stabilization bag NINA is made of the same PVC as our tunnels and filled with sand weighs up to 16 kg. On one side there is a hole for filling with sand. Enter to this hole is equipped with zip. The bag also includes practical loops for easier handling for two persons.

NINA bag is next equipped with a long strap, which ends by trident. The trident serves to connect with the second stabilization bag on the opposite side of the tunnel. Using the buckle you can adjust the strap to your diameter of tunnel to firmly fix it. The straps don't deform the tunnel.

Straps are stabilized against UV radiation, which ensures its long life.

Stabilization bags are available in different colours - white, yellow, orange, red, blue, green and black.
Price of one pair saddle bags is 30 EUR.
We also offer printing on bag (logo of kennel, race, sponsor) - see photo album.
We recommend ordering always an even number of bags.