---
Obstacles
Obstacles known for their quality
We are exclusive importer and partner of Finnish company AGIMET for the Czech Republic and Slovakia.
Agimet's selection includes just the right obstacles for you or your club. Their competition ranges have become highly popular throughout Finland. Agimet provides contact obstacles, with either the popular rubber surface or the equally proven mat surface. The design of our obstacles is always based on safety, ease of use and long service life. Due to this, there are no removable parts on most of the obstacles.
Agimet's obstacles have established themselves in competitions organized by Finnish clubs: Finnish Championships, World Championship trials and the 2011 Nordic Championships, which mainly used Agimet's obstacles. The company Agimet have delivered obstacles to more than 80 clubs and a large number of private customers around Finland.
Practice obstacles for club use
Agimet's competition obstacles are also available as practice versions. Examples of these are the height-adjustable A-frame and see-saw
pictured above. The latter has received particularly good feedback. These obstacles can also be used in competitions. Their height can be adjusted without dismantling and reassembly.
Training obstacles for club and home use

Agimet also make practice obstacles mainly intended for home use. These obstacles meet the same quality requirements as the official Agimet competition obstacles. Examples include the highly popular weave pole set and the handy contact practice obstacle, which combines the contacts of an A-frame and a dogwalk.
Electronic timing system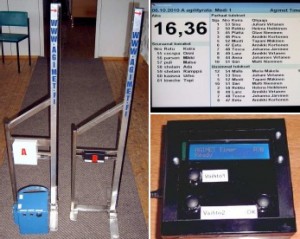 This electronic timing system is specially designed for agility use. The system can be connected to a computer via a USB port. The gates are really quick to install, since they tolerate a setting error of several degrees in relation to the opposite pole. The gates are connected to each other by means of a cable, which ensures accurate timing (0.01 s). Data transfer from the gates to the control/display unit and on to the computer is wireless. The control unit has functions for resetting the system and changing the gate direction. The display shows the selected gate direction, the system status, the time just measured and the time for the previous dog. In the future, extra features will be available for the system, and these can be easily incorporated into existing systems. The system has an 18-month warranty. An audience display can be added by connecting a TV to the computer to
which the system is connected.