---
Tunnel saddle bags AMY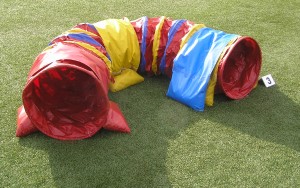 Tunnel saddle bags AMY are suitable for tunnel fixation in the same position, which is desirable for the observance of the same shape of the tunnel and conditions for all dogs during the race and the training.
The bags can be used everywhere, where is not possible to attach tunnel firmly to the ground – artificial grass, gym, hall, sandy course…
The bags AMY are made from the same PVC as the tunnels. It ensures their long life and maintenance-free.
One bag AMY contains 2 pieces of Velcro pocket. The bag is 50cm wide and 2m long, pocket itself is 35cm tall. Pockets can be filled by sand, gravel or stones.
The bags are available in different colours – white, yellow, orange, red, blue, green and black.

On 3m tunnel we recommed to order at least 2 pieces of the bags, on 4m tunnel 3 pieces, on 5 and 6m tunnel 4 pieces of the bags.
Price of one saddle bag AMY is 20 EUR.
We also offer LOGO printing on bag (logo of kennel, race, sponsor) - see photo album. Logo is printed on both sides. Printing is weather resistant.
Price list of Saddle bag printing :
Number of bags

Price for printing on 1 bag

One-colour printing

Two-colour printing

1 - 5 pcs.

13 EUR

18 EUR

6 - 10 pcs.

6 EUR

9 EUR

11 and more

4 EUR

7 EUR
Template with your logo in JPG, BMP or GIF, please, send to the address: info@tunelypropsy.cz. If you have your LOGO in curves, you can send it to us. Otherwise we provide the conversion.