---
Car Pet Protector
Our news from our workshop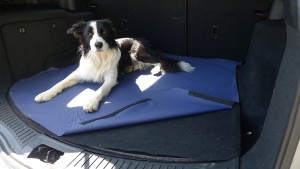 is Pet Protector, which is placed in the trunk of your car. This mad protects your trunk from pet hairs, muddy feet, liquids, scratches and other influences.

The Car Pet Protector is a simple design and is fitted to the car with Velcro on the sides, that firmly attached it to the carpet. It can also be placed on your current rubber trunk pad.

The pad is made of Cortexin. This material does not fray around the edges and is sufficiently tough to resist dog claws.

This pad is tailor-made to your suitcase. It suffices to send us e-mail or fax with self-drawn outline of the dimensions of your luggage space, including variety of sizes and cuts corners and we will send you a quote for production and transportation of your pad.

You can choose your pad from 4 colours - blue, yellow, green and red.

In order of pad for the Skoda Felicia Combi, Skoda Octavia, Ford Mondeo Combi, Ford Focus Wagon (2008 or later) or the Peugeot 307 SW we does not need the outline, we already have it. Gradually we will expand types of cars, for which we already know the dimensions.
The approximate price for the pad is 20 EUR.
Production time is approximately 10 days.
For more information, please, contact us on business@tunelypropsy.cz.